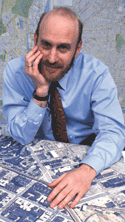 January 5, 2016
Dear GISMO Members,
On behalf of myself and the newly elected GISMO Board of Directors and Officers I'd like to wish you all a Happy New Year and best wishes for the coming year.
I believe this is going to be a big year for GISMO and I want to take this opportunity to let you know what we have in the works.
GISMO Map Exposition: GISMO's founder Jack Eichenbaum is organizing a Map Exposition to be held at the Queens Museum in Flushing Meadow Corona Park in early November, 2016. GISMO members will be invited to submit maps for display.
2016 NYSGISA Summit: The NYS GIS Association holds "Geospatial Conferences" and "Summits" on alternating years. Geo-Conferences like the one held in Albany last month are multi-day events with many small and overlapping panel sessions. Summits last for one day and are conducted as a series of plenary sessions with the most interesting speakers we can find. This coming October 21st, 2016 a Summit will be held in NYC! Planning is already underway and we hope to announce the location soon.
Regular Meetings: GISMO will resume a regular schedule of meetings and presentations after January 1st. Get-togethers will be held either at NYPL at 42nd Street/5th Avenue or at the meeting room of the Fund for the City of New York at 121 6th Avenue two blocks north of Canal Street. Both are readily accessible via public transportation. Our thanks to former GISMO President Matt Knutzen and FCNY President Mary McCormick for making their facilities available to us.
Membership Drive: The GISMO Board has agreed on the importance of increasing GISMO membership from the current 200, to 300 or more. We are now at the beginning of reaching out to GIS students and faculty, government GIS personnel, and private sector GIS users. Please let us know if you would like to get involved.
Membership Survey: The GISMO Board agrees that it is important to better understand what you want to get out of GISMO and what you might be willing to do in support of GISMO. We will be designing a survey form to capture this information and hope to be sending it out early in 2016.
Spring Job Fair: Because so many of our members are students we are hoping to put together a job and internship event. The idea is to bring together recruiters from government agencies, non-profit organizations and private sector companies with students, and recent graduates of GIS programs in the NYC Metro Area. Our two student Board members Tim Pozhidaev and Lisa Palmer, and the GISMO Treasurer Sam Hudis, also a GISMO student member, will be heading this effort with support from other Board members who are in touch with many organizations across NYC.
This is quite an ambitious program…but we can do this and even more if you are interested in volunteering for one of these efforts, or an entirely different one of your creation. Please email me at leidnera@nyc.rr.com and let me know your thoughts. Or…wait until you receive the membership survey.
The importance of GIS is on the rise. GISMO will do its best to keep you connected, and to stoke this wonderful momentum.
Best regards, Alan
President, Alan Leidner; Treasurer, Sam Hudis; Board of Directors, Amy Jeu, Wendy Dorf, Jack Eichenbaum, Noreen Whysel, Kevin Jenkins, Kristen MacFarlane, Lisa Palmer, Timur Pozhidaev