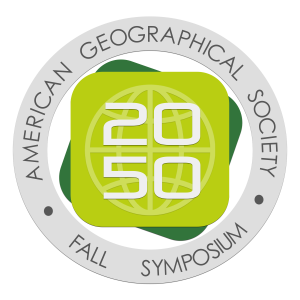 Once again the American Geographical Society (AGS) is offering GISMO and NYSGISA members a significant discount to attend their 2016 Fall Symposium. This Conference is known for its terrific speakers, stimulating sessions and wonderful food. It is also a place to rub shoulders with national and international GIS leaders and celebrities in government and industry. This year's AGS Fall Symposium, entitled "Geography 2050: Envisioning A Sustainable Planet," will take place on November 17th and 18th at Columbia University.
Special Discount: The rate for GISMO and NYSGISA government, academic and not-for-profit members is $190 instead of $300. The rate for retiree/student members is also $190 instead of $250. The rate for business members is $400 instead of $600.  There are limited slots, so please register for the Symposium as soon as you can.
– Select one of the three Registrant Types (based on your current status):
Symposium Only-Special: Business
Symposium Only-Special: Academic/Not-for-Profit/Government
Symposium Only-Special: Retiree/Student
GISMO-NYC/NYSGIS members can only register one (1) person per form.
Enter the number 1 next to the # symbol for the chosen registration category.
Special thanks to Dr. John Konarski, AGS' Executive Director and GISMO member for making this offer possible.