Overview of 2017 NYC GISMO Job Fair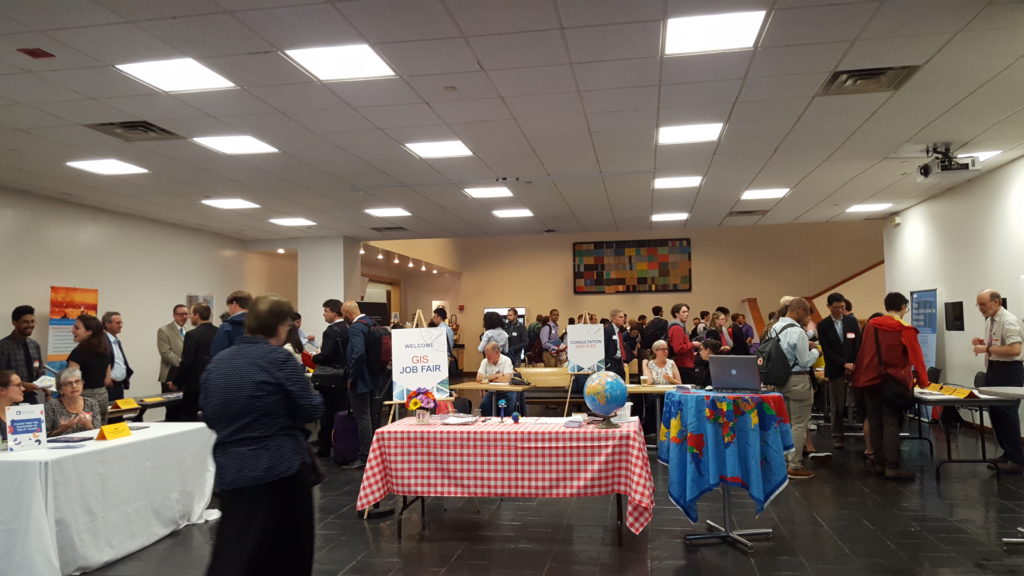 On Tuesday afternoon, October 24th, from 2pm to 6pm, in the Hunter College 1st Floor lobby, NYC GISMO, The City's GIS organization, held its first ever GIS Job & Career Fair.
This event was designed, organized and led by GISMO Board Member Amy Jeu who works for the Hunter College Department of Geography. Amy was assisted by GISMO Board Members Lisa Palmer and Timur Pozhidaev, and students Hammad Ali, Yvonne Chow, Connie Koo, and Joseph Tapia. GISMO Board Members Jack Eichenbaum and Noreen Whysel provided an extra dimension to the Fair by offering job and career advice to job seekers. Work on the Jobs Fair started last spring and involved securing a venue, identifying interested employers and encouraging the City's GIS student body to attend. None of this was easy and GISMO volunteers deserve all our thanks for putting this event together over a six month period.
The idea for the Jobs Fair emerged from the GISMO Board of Directors who were well aware of GISMO's large student membership. The Board wanted to do something of value for them and decided that putting students into position to gain jobs and internships was the thing that they would find most helpful.
The results speak for themselves. The GISMO GIS Jobs Fair attracted more than 120 job seekers who were able to speak with and provide resumes to twenty organizations with GIS jobs to offer. The Jobs Fair room was packed with students waving their resumes and employers, standing at their booths, talking for hour after hour. Based on feedback received so far, it appears that both employers and job candidates thought this event was valuable. Following additional feedback from participants we hope to be back next year with a bigger and better Jobs Fair.
Much thanks also goes to Hunter College for providing an excellent space for the event and to the Hunter College maintenance and security staff.
Alan Leidner, President, NYC GISMO
Director, Center for Geospatial Innovation
Fund for the City of New York