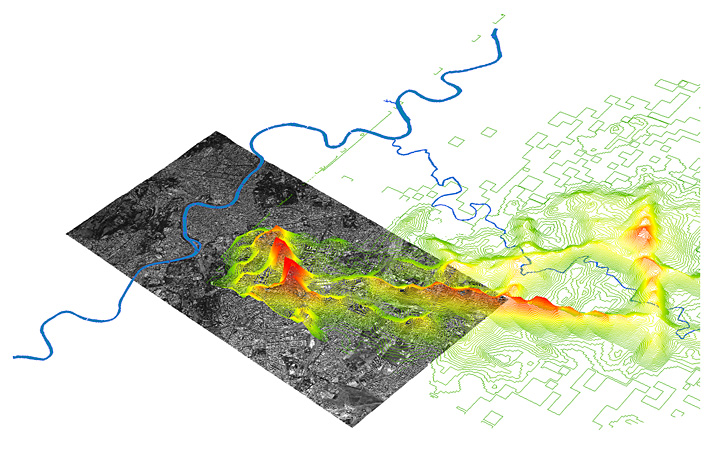 On the weekend of October 29-30, 2016, GISMO will be showcasing an exhibit entitled "Map Mosaic: From Queens to the World" at the Queens Museum and we would love for you to be part of this exciting opportunity.
Cartography is an art which complements the science of Geography.  Good mapmaking helps us visualize the spatial dimension of resources, different distributions and problems.  Geographic Information Science, GIS, (computerized cartography) developed technologically over the last 40 years and enabled the rapid production of diverse maps from digital data.  Practitioners of GIS grew rapidly in numbers after the first PC GIS software was introduced in 1987. In 1990, GISMO was established in NYC assembling diverse users of the software to exchange expertise, share data, and lobby for common base maps and open data sources.
The cooperation fostered in GISMO led to the production of myriad maps of Queens, NYC and the NYC metropolitan area. GIS maps have flourished elsewhere as well.  Many are visually compelling. Others illustrate contemporary problems such as flood-prone zones.  Still others highlight remarkable features of Queens such as the great diversity of language, religion and food that makes the borough special.
One goal of this exhibit would be to impress upon the public the importance of GIS technology.  Some young people may be inspired enough to add GIS training to their academic pursuits; jobs requiring these skills are plentiful.  GISMO is also seeking to expand its membership to further promote continued cooperation among local mapmakers.
We are inviting members of the GISMO community to submit their best maps for this special exhibition at the Queens Museum.  Maps will be displayed via a combination of digital slideshow, or mounted on easels or walls of the gallery.  Visitors will also have an opportunity to manipulate interactive maps on PCs and through publicly accessed software, visitors will be able to perform simple GIS mapmaking tasks.  Additionally, presentations will be made by some of GISMO's expert volunteers.
All maps must be submitted through the GISMO website by midnight, Friday, September 30, 2016.

If you are interested in giving a presentation or live demonstration, willing to be a sponsor, work with the public one-on-one at a PC, or interested in volunteering at the exhibit in any other way, please email Amy Jeu at ajeu@hunter.cuny.edu, listing how you would like to contribute. A member of the planning committee will contact you.
Program in the Queens Museum Theater
* Additional presenters may be added.

Saturday, October 29, 2016
1:00-1:30pm
Keynote
George Davis, Geoweb3d
What is GIS?
1:30-3:00pm
GIS & Careers Panel
• Jochen Albrecht, Hunter College
The NY GIS job market landscape
• George Musa, Columbia University
From Cholera to Cancer: Geographic Information Systems and Public Health
3:00-3:15pm
Break
3:15-4:00pm
Map Design Panel
• Jessie Braden, Pratt Institute Spatial Analysis and Visualization Initiative
Storytelling with Maps and Design
• Joe Sokohl, Regular Joe Consulting
The Territory of the Map: Cartography and the Problem of Information
Sunday, October 30, 2016
1:00-1:30pm
Presentation
Dave LaShell and Patrick Gahagan, ESRI
GIS, Drones, and 3D
1:30-2:00pm
Presentation
Thomas Lowenhaupt, Connecting.nyc Inc.
Mapping Jackson Heights — from farm to cosmopolitan neighborhood
2:00-2:30pm
Presentation
Korin Tangtrakul, Open Sewer Atlas NYC
Queens Watersheds; Mapping ongoing sources of water pollution to Flushing Bay and Flushing Creek
2:30-3:00pm
Break
3:00-4:00pm
Competition
Jack Eichenbaum, Queensborough Historian
Queens Geo Trivia
 3:00-5:00pm
Reception
Sponsors
This exhibit would not be possible without the generosity and support of the Queens Museum, Esri, NYC OEM, NYC DOE OPT, Hunter College Department of Geography, and members of the GISMO community. GISMO would like to extend our gratitude and sincere appreciations to all involved.